After sign up and log in, under the module of Create Ads choose the sub-module For Owners and pick from two options:

1. Posting adverts at Home.sg: This is a classic ad system. You can get it ready in 4 single steps regarding useful and necessary information about your property. The advert will be displayed on Home.sg among many other sites from our portfolio respecting your property's parameters.
Anyone can see your advert(s) and get in touch with you. When you get a new message, you will be notified multiple times so you won't miss anything. All you need to do is logging in and answer them using chat to make deals.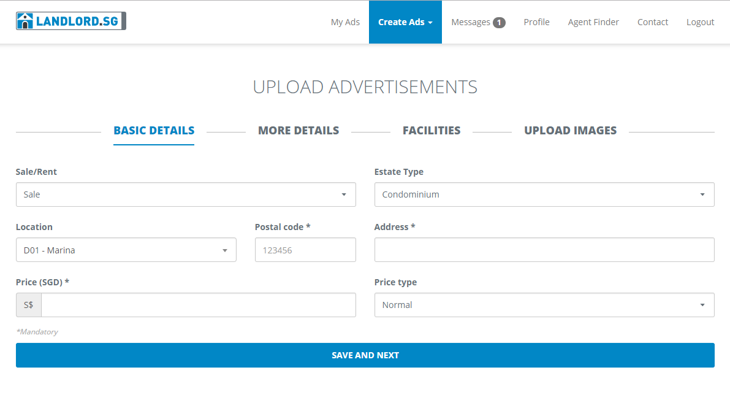 In case you managed to make a deal, you can find an agent to sell or rent out your property with the help of Agent Finder at Landlord.sg or Agent.sg. We have more than 30 000 agents in our database. Please, remark our authenticated agents, who verified their profile in our system.

2. The second advertising method is a sheer new possibility in Singapore. Adverts put up on Agent.sg are listed on a private platform to agents in our database. Agents are working instead of you to reach buyers or tenant for you, and make an offer. With this method you spare time and money, as you will only need to choose the most suitable pick from incoming offers.
Process here also takes 4 easy steps. Registered agents on Agent.sg make offers for these properties. The system will make researches multiple times a day for new messages to inform you if you got a new one. In case you do, you will be notified via email. Next step will be to check with the agent and accept the best offer. Agents will do the hard work for you, so this is a very simple and convenient way to advertise.

Whichever way you choose to go, the service is free and without obligations.